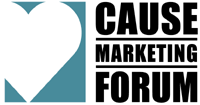 iGive.com is proud once again to participate in the Cause Marketing Form (CMF). This year we are joined by a number of iGive.com participating retailers and causes. Among these retailers are: Ace Hardware, Alex and Ani, GameStop, Kohl's, Macy's, Microsoft, New Balance, Old Navy, QVC, Samsung, Scholastic, and Walmart.  These organizations show their ongoing commitment to giving back by participating in this event and finding new ways to support their customers, their employees and their communities.
According to Kelly Blue Book (KBB), Corporate Social Responsibility can impact how shoppers spend their dollars.  While the focus of the KBB research was in the automotive industry, the lessons learned can be transferred to other industries. The purpose of the CMF is to  increase the number of successful company/cause alliances by providing business and nonprofit executives with the practical information and connections they need to succeed.
This years' event, being held in Chicago is an annual opportunity for causes and corporate partners to connect, to learn and to share knowledge.
In addition, at CMF a variety of causes and corporate partners are honored with the Halo Awards.  The Cause Marketing Halo Awards recognize excellence in North American cause marketing campaigns. 2016 marks the 14th year that the Cause Marketing Forum  has honored businesses and nonprofits with Halos for doing well by doing good.  For more information on the Halo Awards read here: http://www.causemarketingforum.com/site/c.bkLUKcOTLkK4E/b.9351101/k.33C5/2016_Halo_Awards.htm